Tupac's Killer by Jordan Pelaez
First, let me put some ridiculous rumors aside. Tupac is not alive and Suge Knight did not set him up. It's true that Tupac was going to leave Death Row Records but Suge wouldn't kill him for crying out loud-after all, former Death Row founder, "Dr. Dre," is still breathing without any war scars. It is also rumored that Tupac had Dre pushed off the label but that is probably just another Tupac strategy against his enemies. It all started about three months before the shooting in a Southern California mall, just near Long Beach. Three members of The Mob Piru Bloods (Most of Death Row Records is allegedly maintained and ran by the Mob Piru Bloods aka M.O.B., including the infamous and shaddy CEO Suge Knight.), went into a Foot Locker to purchase some shoes. One of the blood gangmember's allegedly worked for Death Row Records and was wearing the infamous diamond cut medallion (worn by Death Row staff and artists).
Just after leaving Foot Locker, they headed back to thier 1996 Lexus, about 8-10 rival Southside Crips rushed the three blood gangmember's and one of the crips manage to get the Death Row medallion. The person who stole it was allegedly Orlando "Baby Lando" Anderson. Now this is the blossoming of Tupac's early demise. Three months later we enter The MGM Grand and Tupac is with his Death Row entourage among many is the same Mob Piru Blood that was jumped by the Southside Crips in Lakewood, California. He [the blood] spot's Orlando Anderson and Tupac heads over to start what appears to be a royal ass beating on one Anderson. (See rare footage from the MGM Grand security video.)
After Tupac's entourage beats Anderson repeatedly, they make their way out before the police show. Anderson get's up and talks to the police, then leaves and allegedly joins his entourage of Southside Crips as they look for Tupac. It wouldn't be hard to find Mr. Shakur on that night because he was going to Suge Knight's Club 662 (Which spells out M.O.B. on a telephone pad). The rest is only self-explanatory. A couple weeks after Tupac's murder, Metro Police arrested Orlando Anderson. Anderson's family released a statement denying he is connected to Shakur's killing in Las Vegas:
"Tupac Shakur, the talented musical genius, fell at the hands of a violent cruel drive-by shooter or shooters in Las Vegas. That's a fact. That person, however, is not Orlando," the statement said.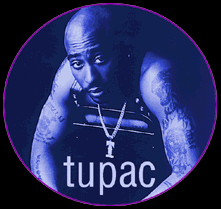 Back To Main
---
SmartClicks: Target Advertising For Free