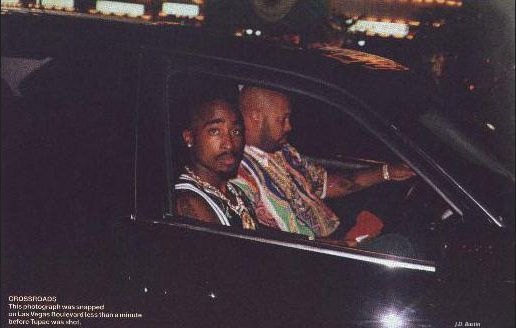 2 Hours before 2PAC was shot
After a hail of gunfire hit their car, rapper Tupac Shakur cracked jokes and was apparently unaware of the severity of his injuries, according to Marion "Suge" Knight who was driving. In his first public appearance since the Sept. 7 shooting and the death of the rapper in a Las Vegas hospital days later, Knight told the Black Entertainment Television network that he'd told Tupac he'd get him to a hospital. "And the first thing Tupac said was 'I need a hospital? You're the one shot in the head." The rapper slipped into unconsciousness moments later and never recovered.





Here Are Some Witness Which Have Notice The Incident
- Yafeu Fula (Outlawz : Kadafi)(Note: Fula was killed in New Jersey in November 1996)
- Malcolm Greenridge (Outlawz : E.D.I. Mean)
- Frank Alexander (Tupac's bodyguard)
At the beginning of the Makaveli album Fula says "Suge Shot Me" (This refers to rumor Suge Shooting Tupac).

After Tupac was gunned down in Las Vegas, a couple months later, Yafeu Fula (Kadafi), was shot once in the head and found slumped in a third-floor hallway of a housing project about 3:48 a.m. Sunday in Orange. He was taken to the University Hospital in Newark, where he died Sunday afternoon. Yafeu (Kadafi) was the only witness willing to identify the killers of Tupac. Police arrested two Irvington teen-agers in the killing of Yafeu (Kadafi). The two were charged with murder and weapons offenses. Authorities declined to release the suspects' names because they were juveniles. Police said the killing wasn't related to Tupac's.



In fact, there is plenty of evidence that Tupac is indeed dead. Las Vegas police interviewed over 20 witnesses to the shooting, and they believe they know who killed Tupac. But without further witness co-operation, they fear they won't have a prosecutable case. Secondly, an autopsy was performed on a body positively identified through fingerprints as that of Tupac, the cause of death listed as injuries from gunshot wounds. A death certificate is on file in the Clark County Vital Records Office, and Davis Funeral Home of Las Vegas confirms that they services were provided for one Tupac Shakur.
KURT: "One man you wouldn't think had to worry about what he puts in his system anymore is the late rapper Tupac Shakur, who was very publicly murdered on a street in Las Vegas last September. But a lot of people out there -- e-mailing us at the rate of dozens a day -- seem convinced that Tupac's career, and his non-stop run-ins with police aren't over, because he's not really over. Here's John Norris to shed some light. "
JOHN NORRIS: "Tupac filled his 25 years with enough drama and adventure to fill a three-hour movie. So it should come as no surprise that even in death, many of his fans still anxiously await one more plot twist. As with most good '90s conspiracy theories, "Tupac lives" began on the Internet. "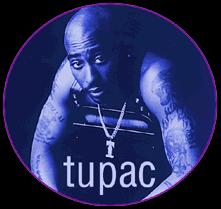 Some speculate Tupac faked his death to boost record sales or to avoid enemies. In fact, Tupac's sales and public persona were never bigger than in the months before his death.
Armchair analysis of his lyrics shows that Tupac was preoccupied with his own passing, and an eerie video depicting his fatal shooting appeared just days after his death.
Speculation also centers on "The Don Killuminati: The Seven Day Theory," which Tupac posthumously released under the alias "Makaveli." A note inside the cover says "Exit: 2pac, Enter: Makaveli," fueling the theory that Tupac is heeding the advice of Nicolo Machiavelli, a 16th century Italian war philosopher, who some say advocated faking one's own death to fool enemies and gain power.
"Don Killuminati" is presumably a reference to the "Illuminati," a dubious secret society which aspires to world domination. Then there's the cover art and accompanying numerology, suggesting, to some, a resurrection.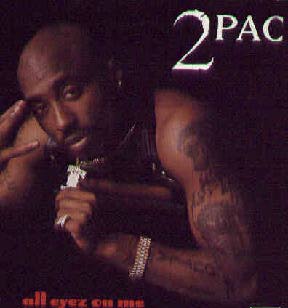 MARION "SUGE" KNIGHT: "On the cover of Makaveli he's on a cross, you know, shot up, being crucified and you know, it's real, it's real deep. I mean Pac got shot on the seventh and that's deep. You know, Jesus on the seventh day. And you know he went on to a better place on the thirteenth. "
NORRIS: "Adding to these omens in the minds of the skeptical, is doubt surrounding the circumstances of Tupac's shooting. True believers claim there were no witnesses to the shooting; that the white Cadillac from which Tupac was supposedly shot was never found; that Tupac always wore a bulletproof vest, but oddly didn't wear one that night; and that his hasty cremation and canceled funeral services were merely a way of avoiding an autopsy, a death certificate and a public viewing of the body, which, since there was no body, would have exposed the whole plot."
---
Some links related to 2PAC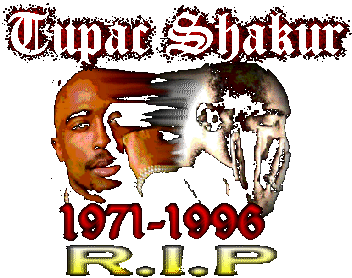 18 Reasons
Top 20
Official Tupac Homepage
Tupac's Inspiration
Chat

Tupac's Killer
Lyrics Page
Is Tupac DEAD or ALIVE?

LE FastCounter
---
Please pen down something in my GuestBook
---
Please do contact me if you want me to add some news regarding our late 2PAC
---
SmartClicks: Target Advertising For Free
© 1999 Tupac Amaru Shakur aka 2PAC, All rights reserved ©
(DO NOT copy,edit or use graphics/HTML without permission)